The current Sculptris was released as Alpha 5, meaning unfinished product. Many softwares get released as alphas and betas, mostly to get feedback from the public. "I like this", "I did this and it crashed", "won't load on ___ operating system". comments like these can help programmers focus on areas that potential customers might be more interested in, and help them fix bugs they might have missed. One of the major bugs Sculptris has is that it does not export an accompanying .mtl file when it exports a model (.obj). While this is an easy fix for the seasoned pro, it can be quite confusing to noobs. All it means is that you need to click (Advanced Options) in paint mode, and export your texture, normal and bump maps, export your model, and then your have to manually add your textures and adjust your materials in your other software.
---
The Wavefront Object - (.obj) filetype, developed by Microsoft, is one of the oldest and most widely used format in the 3DCG industry. The advantage here is that it's just a text file and can easily be read and edited in any text editor, as compared to the older 3dstudio format .3ds which is done in Hex. The drawback is that it was developed before many of the rendering softwares, and so displacement, normal, and environment maps have to be manually added in the software. Textures, UV mapping, and RGB material are supported, and most softwares export .obj with an accompanying .mtl file so that these can be saved and automatically imported. Sculptris Does NOT.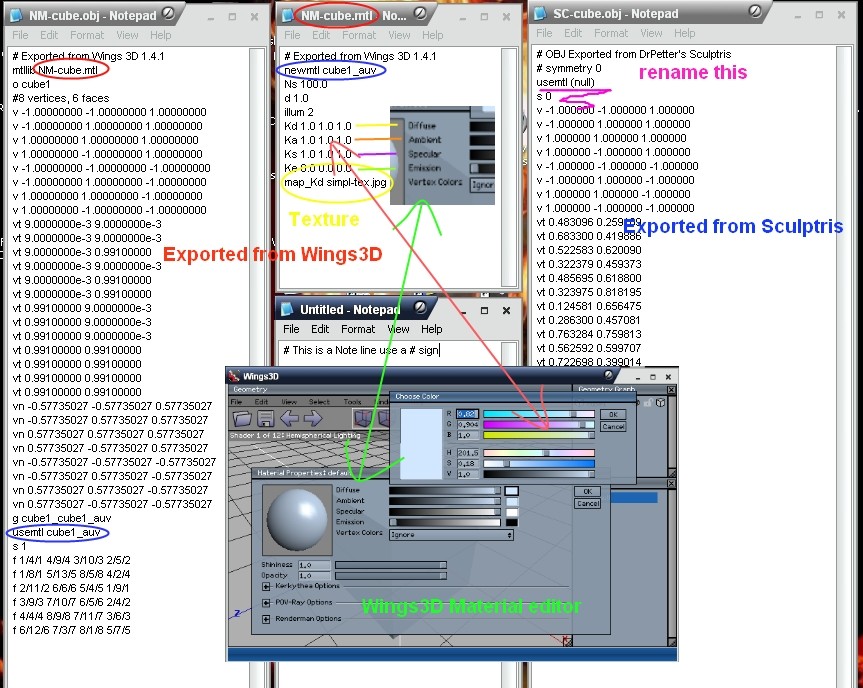 The easiest software to import your model in is Wings3D. Its viewport doesn't support normal or displacement mapping, but the suggested external renderer POV-ray does. It's also the easiest example to show.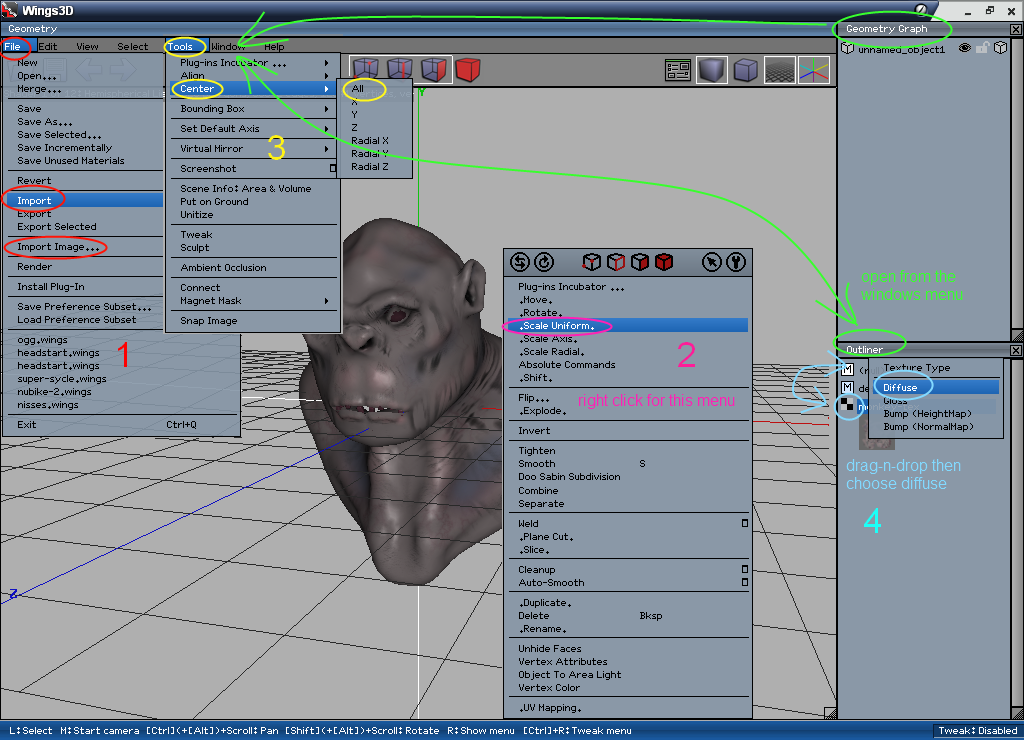 You'll have to import your model and its texture separately. If you haven't already, you'll also want to open the Outliner and Geometry graph and place them on the side. If you import a raw Sculptris model it will be huge and you wont see it. Just middle click the mouse wheel and scroll out until you can. Then choose object mode from the 4 icons at the top, select your model, right click anywhere in the viewport and select Scale-Uniform and use your mouse to scale down. You may want to center it too. When you import your texture, it will appear in the Outliner window. Select it and drag-n-drop it on your models material (null) which you should also rename.Choose diffuse. You may also want to Edit the material to something closer to what you had in Sculptris. Finaly, in Wings3d the edges have to told weather or not to be smoothed. In object mode select your model, then switch to edge mode(lines), right click on the viewport and choose hardness-smooth. Now you can click the preview Icon in the upper right and see your model smoothed and with a texture. If you export from here, the material and texture will be saved and automatically load next time.
Exporting to Blender, Max, Poser or any other software is the same, but explaining where and how to edit the material channel is more complicated. Watch some vids for those.
Admin




Posts

: 28


Join date

: 2011-06-14


Age

: 46


Location

: Phoenix, AZ



Hi Justanother1 :-)

I posted a reply and it doesn't appear.
That's why I'm posting these lines for a test.

Hi Justanother1 :-)

Test OK.
Now I'll try to remember what I typed in my first post :-)

meshmixer (the last version with colors) is a nice modeler, easy to use and stable.
I'm using the 64bit version with Windows 7.

I want to recommend this excellent free beta tool to the community of this forum :
CB model Pro Beta
This nice project was neglected and it will remain in that state forever.
If you register, you will receive a free license key.

Combining this tool with meshmixer is a good choice, you will quickly discover why.

:-)

ooh I see now why my first post was "banned" LOL :-)
then you'll have to discover the link to CB model Pro Beta yourself.

someone else posted here ...... hey, wow cool ..
Yea I tried CBModel Pro years ago, It was alright for what it was, but I doubt there'll be much more development. My personal fav for good quick geometry is still Wings3D. And the tools in 1.4.1 make it Da Bomb! You know Wings3d's got Sculpt mode now too and still has the best UV mapper, if your doin it by hand. Meshmixer 5 is good for what I showed here. I noticed the (Smooth Selected) got changed in Meshmixer 6. I wouldn't bother sculpting in it though ..... any app that needs a keypress plus mousemovement for camera is junk. But I'll check out your forum .... Thanks for posting in mine !!!

Admin




Posts

: 28


Join date

: 2011-06-14


Age

: 46


Location

: Phoenix, AZ



Justanother1 wrote:someone else posted here ...... hey, wow cool ..
Yea I tried CBModel Pro ... But I'll check out your forum .... Thanks for posting in mine !!!

Hi Justanother1 :-) There is no active forum on CB Model Pro. I am a simple visitor. My main specialty is to collect all what exist in 3D tools (there are so many free tools for non commercial purposes). Beside that I have a few licenses for very good professional tools. My preferred one is Marvelous Designer to create garments for my Daz models. As I can see, you are a skilled 3D artist and your technical knowledge in matter of 3D is very interesting. Thank you again for that. :-)


Similar topics
---
Permissions in this forum:
You
cannot
reply to topics in this forum