[b]This board is my personal continuation, from where I left off, when my username jusatanother1 and all post were deleted from ZBrushCentral. UPDATE The New Alpha 6 Can be found
Here
and is worth your time to sign up .... Doesn't seem much different but handles pre-UV'd model much better! so Retopo first, Then take to Paint mode !!
Sculptris is a small but powerful, user-friendly, 3D modeling application that can be freely downloaded at
the ZBrushCentral website
. I'm hoping to build a real Sculptris artists discussion forum here where you can post and share your work, ideas, techniques, and workflows, without feeling limited by what Pixologic may not like! So please feel free to join in! Unfortunately, because this is a free forum, attachments will have to be hosted by a 3rd party filehost. I recomend
www.fileden.com
for all, but you can use the button above for images.
Last edited by Justanother1 on Mon Jun 20, 2011 10:27 pm; edited 2 times in total
This is probably what set Pixologic off ..... was originaly posted in the meshmixer forum
Export your basemesh from sculptris, you need not go into paint or be uv-mapped. Open Meshmixer. Import your basemesh. In Select mode select the area you want to extract. It will be chunky, don't worry. If you select too much you can (shft)+click to deselect. Then choose Deformations - smooth boundary. This will smooth out your selection. Then choose Modify selection - invert if needed. Meshmixer chooses the smaller area but if thats what you want to keep you need to invert. Then choose Edits - Discard. Now just export your extract.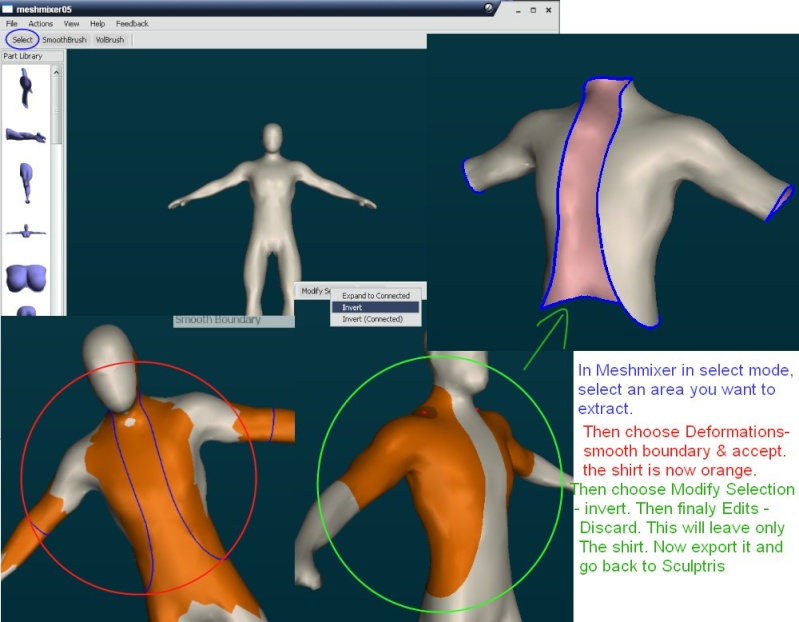 Back in Sculptris, start by opening or importing your basemesh. You may want to move and scale your basemesh before you import your extract, after a few tries you'll understand. But always press Z after moving and while your basemesh is facing mostly forward, to reset to Front view. Then just import your extract, checking "Facing camera" so there's no need to rotate. Then use Scale and Grab to get it mostly into place. Finaly hide your basemesh, and use Grab and Inflate to fix he poke-throughs. Of course you can continue modeling on either mesh. You can go straight to paint, or you could delete the basemesh, and paint the extract seperately. You'll have to render with another software, but you'll gain a lot more room for detail. And once the shirt fits, it should be no problem importing it into another modeler. Blender, Poser, etc.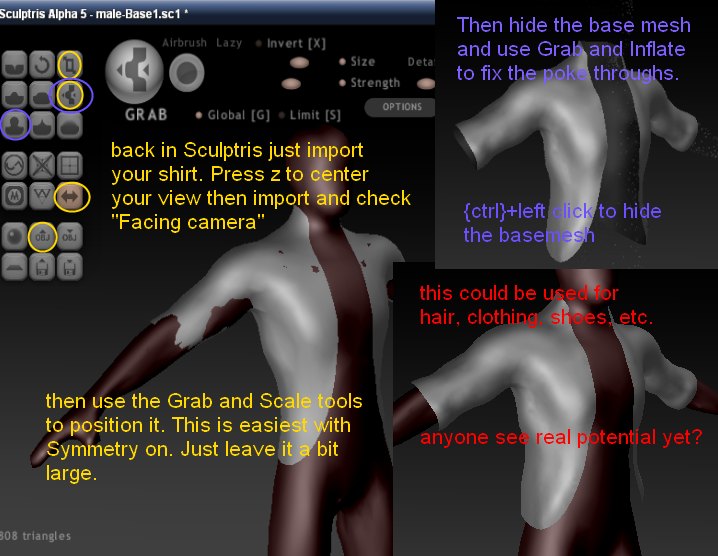 Thanks for really interesting and usefull information. Keep going!

P.S.: It seems like another guy will be kicked of official Sculptris forum, he's posted a message with "meshmixer" 3 hours ago.



Posts

: 1


Join date

: 2011-07-13


Age

: 34



Hey Just!
I'm glad you decided to create this forum, and it was actually just today that I heard about Meshmixer, despite having researched these types of programs the last few years. I am VERY excited to have this to work with, in conjunction with Sculptris. I'm more of a 2d guy when it comes to drawing and animation, but having these tools to create references are invaluable. If I could find a good way to create backgrounds, buildings, etc. for reasonably cheap, then I might seriously think more about 3d animation. I do have Bryce, which I need to check out. I wish Google Sketchup could import/export .obj files. Anyway, sorry to ramble. I'll post a sculpture soon!




Posts

: 1


Join date

: 2013-03-24


Age

: 46


Location

: Oregon, USA




---
Permissions in this forum:
You
cannot
reply to topics in this forum