Zbrush Has been the ultimate design tool for years. Its ability to create and hold subdivision levels, use of custom brushes and textures for modeling and painting, and ability to export that model in different subdivision levels as required for the project at hand has made it the top notch software on the market for artists. Subdivision ? Huh? A vertex is an address in virtual space. Two vertices connected form an edge. Three or more edges connected form a polygon, a virtual surface. Colors can be assigned to the vertices, edges and polygons. If connected, but assigned different colors, a gradient will be formed in the transition. These are the very basics of 3D modeling, the design on which Zbrush is built. Map coordinates can be assigned to vertices, edges, and polygons, a process called UV, and then an image can be projected onto this digital surface.
So the workflow in Zbrush is ....1 Build a fairly low poly basemesh from zshperes or in other software. 2 Subdivide into the millions of points(vertices).3 then finish modeling the detail and painting. 4 Export the Painting and detail to texture and normal maps. 5 And finaly bring the subdivisions down to produce a usable model. Huh?Yes, a million vertices will pretty much crash any other software. A million vertices is not animatable. A million vertices would take a few days to ray-trace final render in a fast computer.
But what if a modeler came out that could paint directly to texture, directly to normal map. What if you could skip steps 2, 4, and 5? Say hello to Sculptris, the modeler that does exactly that.I ran onto the website of
artist Martin Rezard
, particularly
this page
who's Apeman Zbrush model I decided to try and copy in Sculptris for this Study. Understand I wasn't looking for an exact duplicate, but rather trying to reproduce the detail as only Sculptris can. So I grabbed a screencap to make a decent background for reference and started modeling.
I cheated and used Meshmixer to cut out the mouth and eyes.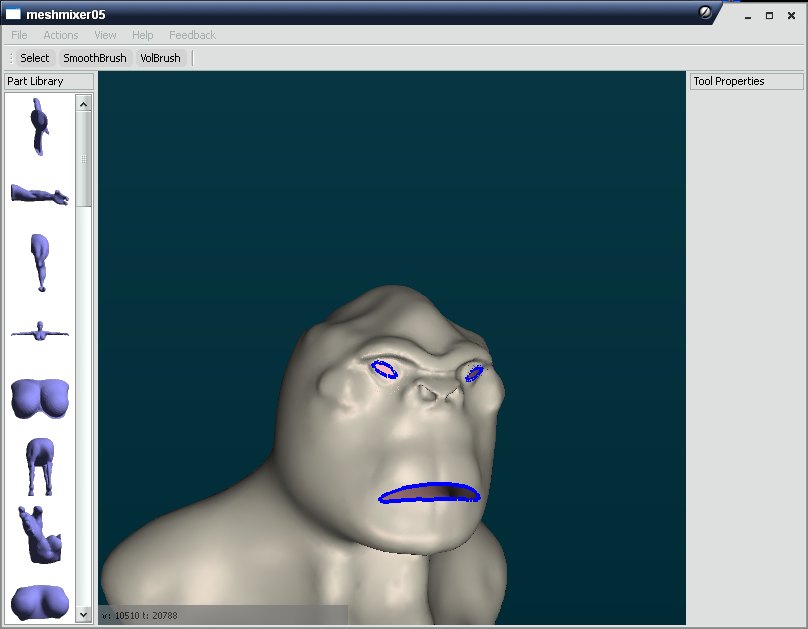 and Wings3D to make a nice little tooth to import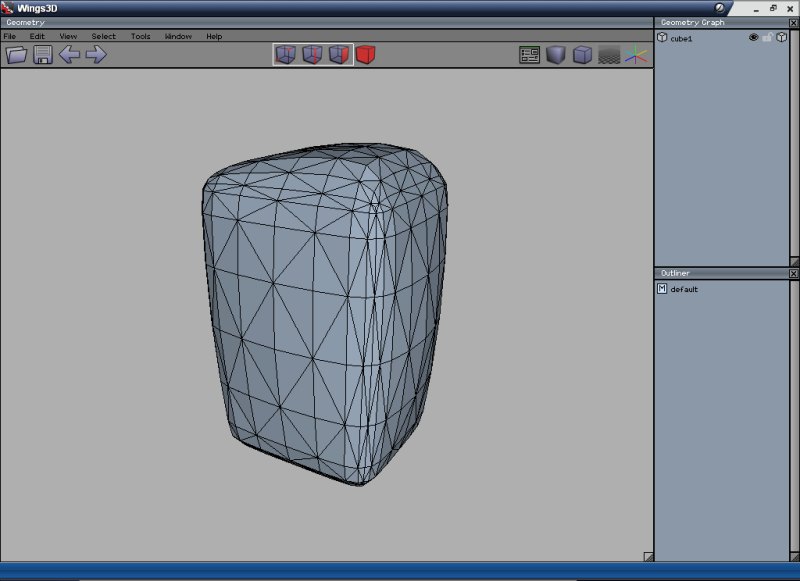 Then I imported it all back into Sculptris to fix and finish sculpting.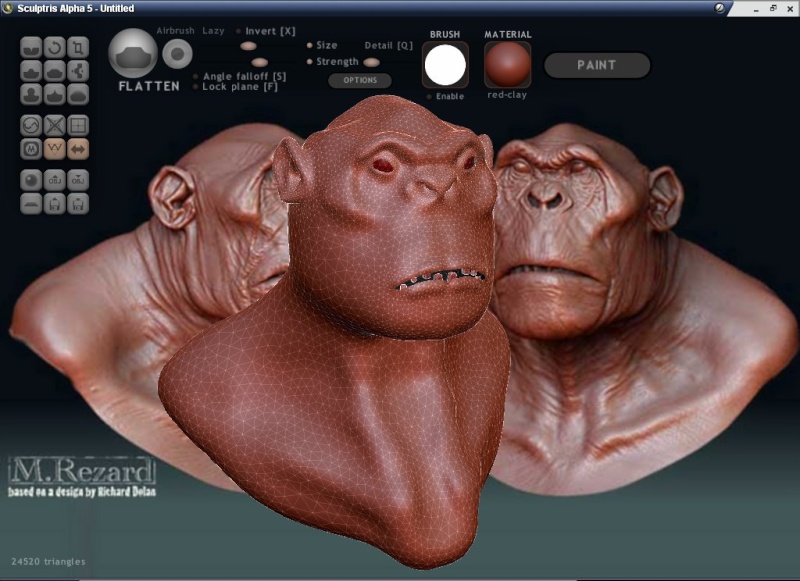 I used UV-deformation mode to scale up and smooth around the eyes. I also moved the eyes and all the the teeth outside of the body for UV-mapping, seems to work better that way. After going to paint you should always look at the checker pattern. it will show you where the UV edge cuts are.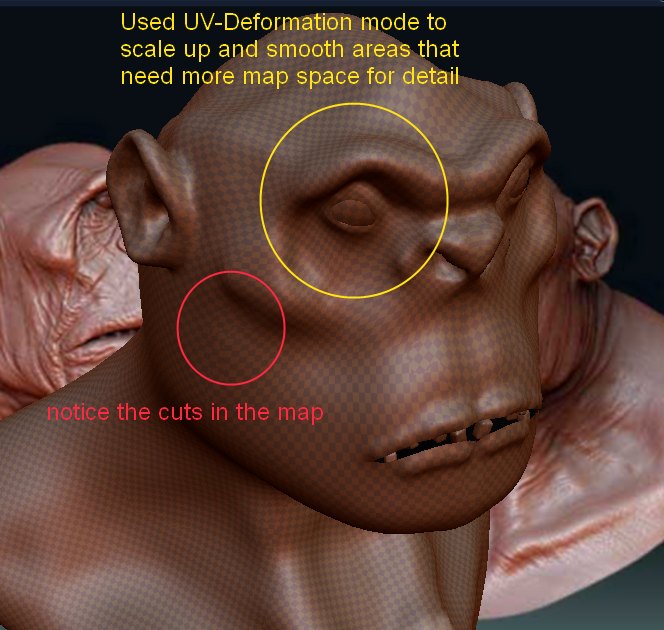 since the Apeman seemed to use the color of the material along with the texture, I filled mine with grey then added some sub-surface veigns and shading.
I needed a good wrinkle alpha for this model, so I saved the file and searched for one..Yes you can save and close-out mid paintjob.
I went back to Sculptris to finish the model. After painting detail to the normal map, I used the Heightmask (from bumpmap) to add some shading to the texture.
Then for a final render.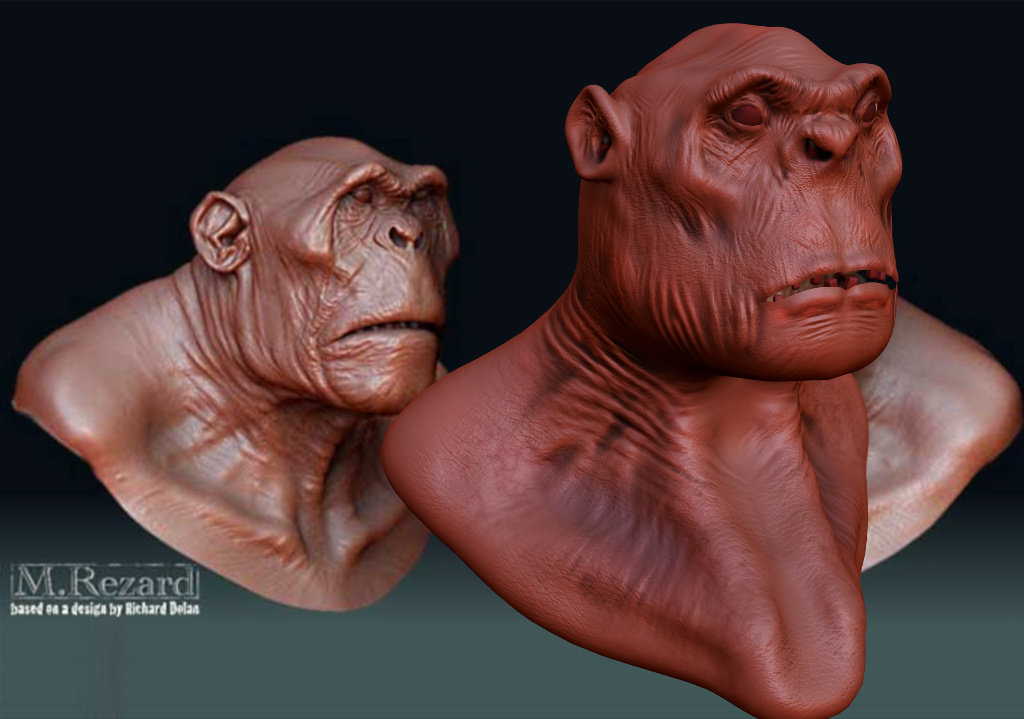 The most important part is what you don't see ..... The Polycount. Martin Rezard's Apeman has got to be over a million points (vertices, they're called points in Zbrush).
The point here is that my version - exported is a ready to go model. Could be used in a game as a background statue or combined with other models into a final render. No need to bring down subdivision levels, the low polycount is well within the limits of gaming engines. Truthfully, it would need to be retopologized for easier rigging and facial animations, and I didn't model an inner-mouth, just teeth behind the cut. Is it the same model? No. I just wanted to show that the same level of detail can be "painted" into the normal map. It's like Sculpting in Paint mode. And it's a lot less memory and cpu intensive than modeling a higher polycount.
However I didn't mention Zbrushes 2.5 D function, which it was originally designed for. The idea was to be able to draw 3d surfaces directly onto a blank 2d canvas. It's actually really cool and there's no other software that does it except Zbrush. It's similar to oil painting in real life with thick, chunky paint.
Similar topics
---
Permissions in this forum:
You
cannot
reply to topics in this forum